ELVIS PRESLEY FAN CLUB MEMPHIS KING LEEDS BRANCH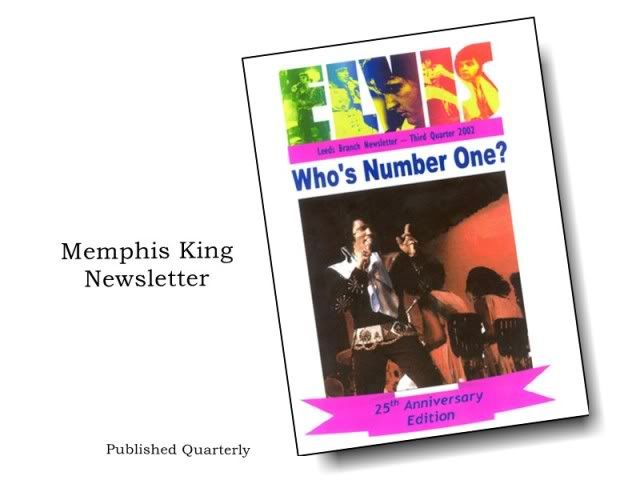 Membership to Official Elvis Presley Leeds Branch Fan Club includes a quarterly Official Leeds Branch Publication made by fans for fans. It's packed full of great pics and interesting articles
The Official Leeds Branch Memphis King Elvis Fan Club hold Elvis music nights video-disco events at:

Richmond Hill Social Club, Railway St, Leeds, West Yorkshire. LS9 8HB. Pat Phillips is Branch Leader and will be only too happy to advise you, especially if you are travelling far.
The Elvis Presley Leeds Branch Fan Club direct line is: 01132 402932 (speak to Branch Leader Pat Phillips)
The Elvis video-disco nights are great if you are a fan, or just interested in Elvis music. Rare tracks get played all the time. Any dedications or requests for that Elvis song you love, but hardly hear it played on the Radio are always welcome - even if you have forgotten the title! With the new video screen projection, you are free to dance or if you don't dance - watch the King on the large screen!
Membership includes discount admission and the Official Leeds Branch Memphis King Newsletter Magazine, distributed quarterly.
Full membership cost includes four Elvis News Magazines, discount admission to the Elvis nights and a free buffet at Christmas disco party. The membership prices are:
£4.00 per single person membership (50p reduction for discos)
£6.00 per family membership (entitles family 50p reduction for each named persons)
£5.00 for postal membership (all Elvis Leeds Branch News Magazines sent out for delivery, for those living too far to make it to the discos)
DISCO ENTRY (NON MEMBERS) = £3.00
DISCO ENTRY (MEMBERS) = £2.50
CONTACT DETAILS:

PAT PHILLIPS (BRANCH LEADER)
LEEDS BRANCH MEMPHIS KING
ELVIS PRESLEY FAN CLUB

418 OAKWOOD LANE

LEEDS. LS8 3LG

TEL (UK) 0113 2402932
THE OFFICIAL ELVIS PRESLEY
FAN CLUB MEMPHIS KING
LEEDS BRANCH
NOW ON FACEBOOK!
Find us at Elvis Presley Fan Club Leeds Branch
---
Video-Disco Dates for
2016
"put 'em in your diary!"
FEBRUARY
Friday 19th February
HEART OF ROME
VALENTINE
SPECIAL VIDEO DISCO!"
VIDEO-DISCO DANCE
ADMISSION PRICE
ENTRANCE FEE: £3.00 (non members)
ENTRANCE FEE: £2.50 (members)
Join us for a lovin' you Valentine's
SPRING WITH ELVIS VIDEO DISCO!
Get ready for some "Spring Fever"
with the Spring Celebration Video Disco.
Enjoy the INCREDIBLE music and CHARISMA
celebrate the great man and music.
ON A SNOWY CHRISTMAS NIGHT
All the festive hits Elvis had plus
the great classic songs we all love!
Fabulous

FREE BUFFETT

for all members!
THE VENUE
OFFICIAL ELVIS PRESLEY FAN CLUB MEMPHIS KING LEEDS BRANCH U.K.
Look forward to seeing y'all in 2016
- if you can, please make an effort to get to the Elvis video-discos. Without the fans, we would be lost!
And we wouldn't be able to put together the fantastic Elvis video-disco nights. You'll have a great time with the King on the big video screen and maybe even win a prize... or two... or more!
It's a new updated video/disco. Watch the King and dance to him! If you don't feel like dancing you can see him on the big screen!
All song requests welcome. Every song Elvis ever cut in the studio are just waiting for you. The long lost song you wanted to hear and maybe don't even know the title! Ask away and DJ 's Paul & Leanne will have a look through the vast archive of everything Elvis recorded during his amazing career.
Lots of prizes are given out in the raffle (see Mary who will be going around the tables selling a set of five tickets for just £1.00) The more you buy, the better you have winning. There's a load of prizes up for grabs. So the next lucky winner could be you!
So let's sum it up... All ELVIS all night!! Video screen Disco - AND fantastic raffle prizes! It just can't be missed. "Come along" and join the fun. "Have a happy".

---
---
---
HOW TO FIND US
If you click on the button below marked as "View Larger Map" you will find a link to the Official ELVIS PRESLEY Fan Club Memphis King Leeds Branch - via Google Maps. See 'Railway Street' marker, directly opposite is the club (you can see cars parked in the club car park on Street View) If you view the car park in "Street View" on google maps, a white new mini is parked just in front of the club. The club is below 'Railway Street', as you view above in the ariel view. You can fiddle with the map and zoom out to show more or less of Leeds - depending on where you are travelling from. If you have SAT NAV just type in the postcode.
On Google Maps they have a good directions finder, so you just put in your address and the address of the club for directions. It's very easy to get to by train or bus and is only a few minutes drive from the train station or bus station.