-ELVIS FAN CLUB LEEDS BRANCH-

NEWS FROM AROUND THE WORLD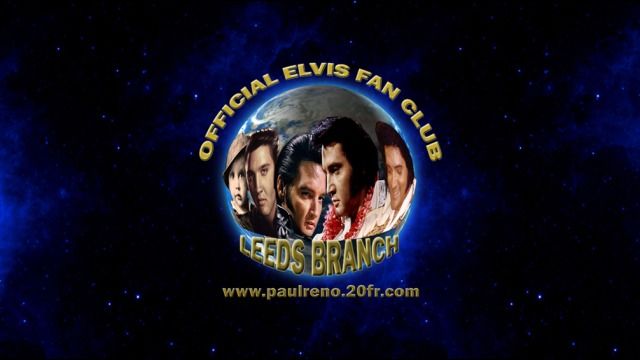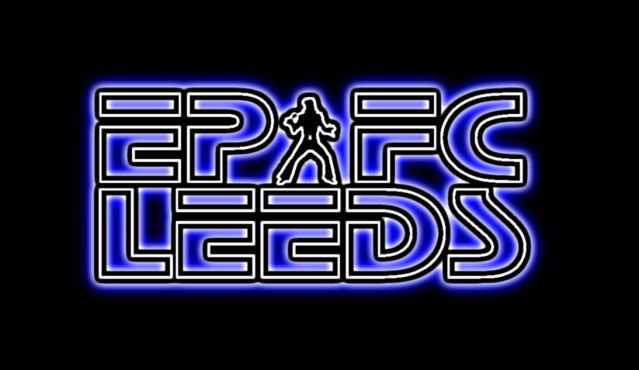 SPRING FEVER...LOVE IS IN THE AIR!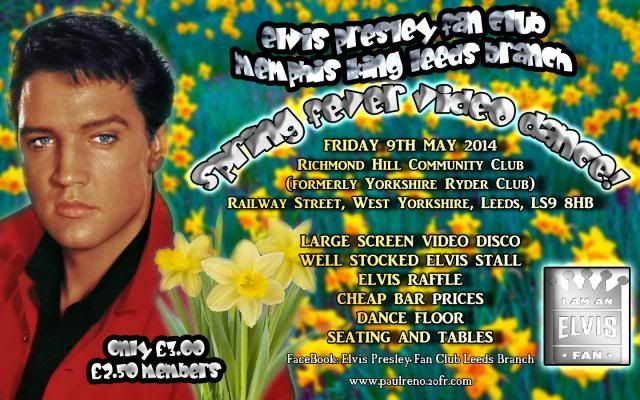 SPRING FEVER ELVIS VIDEO DISCO DANCE
Join us for fun and sun for the new season of Elvis this spring. Well, there's no guarantee of sun but plenty of Elvis fun at the large screen video dance.
Get yourself along - every Elvis fan is welcome, even if it's just a passing interest in the music of the King.
We have a stage projecting songs of the King and playing as you dance, or sit and watch. It's up to you.
Featured through the night is the ever popular, well stocked Elvis stall. Full of anything Elvis you'd like. Quality items provided by elvisstuff.co.uk .
There's an Elvis raffle in the night and lots of chances to win lots of prizes.
If you fancy any drink, an inexpensive bar suits your pocket.
Admission is kept low at just £3.00 per non-member, or only £2.50 entry for members.
For details of how to locate us, go click on the categories above the page and select Fan Club. A detailed Google Map provides the route.
Let's see you all there for fun with the King!
.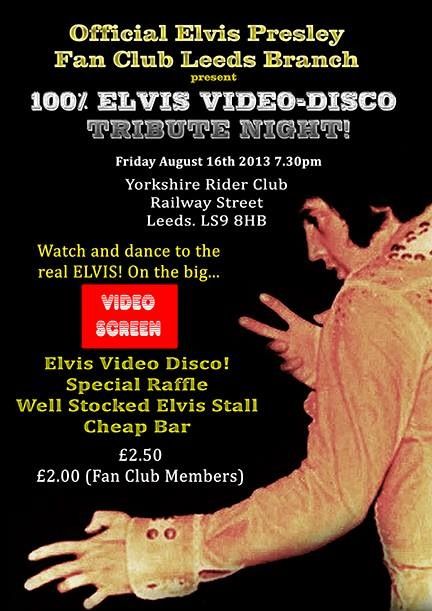 ELVIS REMEMBERED 36 YEARS
AFTER
Although it's an amazing thirty six years since the king passed away on August 16th 1977 - new fans are still being enthralled by the greatest entertainer who ever lived.
Young and old fans make their way to Graceland in Memphis, Tennessee to walk around the home Elvis owned for 20 years.
This year events are all around the world (who am I, Lisa Stansfield!) and in the UK the main event to attend is the ALL ELVIS video-disco dance in Leeds, West Yorkshire, England.
find us now on FaceBook - we have a page dedicated to Elvis, us and YOU. Just log on and search the group at Elvis Presley Fan Club Leeds Branch. Join the group and take part in the online discussions or start your own.
It's packed with rare unseen pics and if you have any comments or pics to post, feel free. You'll find us extremely friendly and if you have a passing interest in Elvis, please join and ask any questions you like.
.
Review:
The Official Elvis Presley
Leeds Branch
CHRISTMAS VIDEO-DISCO!
Another splendid Christmas at the Leeds Branch video disco. With raffle prizes and top Elvis DJ Melvyn in charge of the video disco. Good to see branch leader Pat who was in charge of the proceedings.
The free buffet was welcomed by all fans, as a thank you for their loyal support throughout the year.
Unfortunately Andrew, who runs the excellent stall was unable to make it, due to the terrible weather on the night.
Remember, these events wouldn't be able to continue without your valuable support.
A great news magazine was for all members and a big thank you to Jane who helped compile and print the magazines.
Let's see 2013 with members filling the room - without you, we wouldn't be able to enjoy the unique video discos.
ELVIS VIDEO DISCO DATES FOR 2014:
FRIDAY 9th MAY - Spring Fever Elvis Video Dance
FRIDAY 15th AUGUST - Remembering The King Elvis Video Dance
FRIDAY 19TH DECEMBER - Merry Christmas Baby Elvis Video Dance
Includes FREE BUFETT!
Put 'em in your diary!
.
.
.
____________________
ELVIS LEEDS FAN CLUB AUGUST 2012

REVIEW

August 2012 35th Celebration Video/Disco went really well. It was great to see a good turn out, considering lots of the Leeds Fan Club had taken a trip to Memphis and Graceland to watch all of the big celebrations. Lucky sods!

But in West Yorkshire Leeds, we showed them how to party!

As usual a great Video/Disco from Melvyn and it was nice to see Branch Leader, Pat.

A great selection of Elvis goods from Andy on the Elvis store, offered plenty of gems to pick up (well, providing you had paid!)
Many thanks to all the helpers who lent a hand throughout the night. I actually managed to WIN on the raffle! So I picked up the large, framed Elvis picture which will come in very handy when I move over to Wakefield and in my flat.

I was filming the night and I'll feature the footage on this website. If you want to watch it right now, go on to YouTube and search for paulreno1 or Elvis Fan Club Leeds. The clip features "Way Down" so see if you can spot yourself!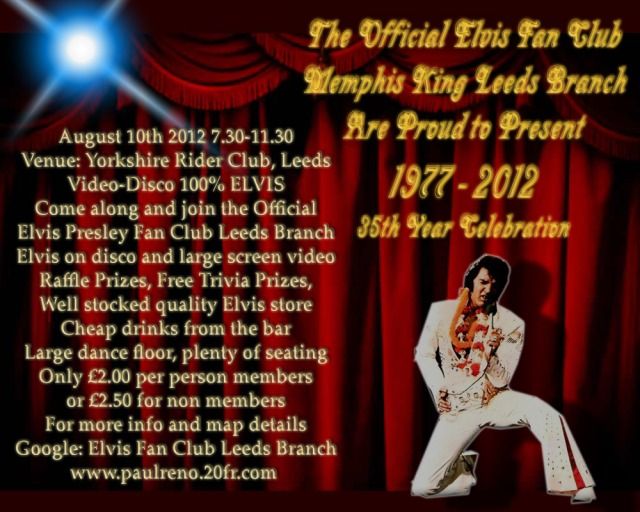 ---
OFFICIAL ELVIS FAN CLUB
LEEDS BRANCH VIDEO-DISCO
May 2012 Review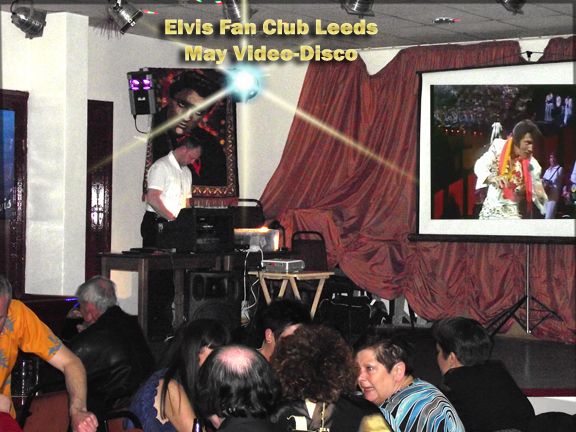 What a fantastic night at the Official Elvis Presley Leeds Branch in May 2012. If you missed it - shame on you. Do you have a sick note?
Mel was, as always, on the disco and running the film clips. No Gremlins to spoil the night - just 100% Elvis all the way! Just what you need on a Friday night. Infact, just what you need EVERY NIGHT.
Lots of people having loads of fun as Elvis (CD and Video) was there on the big video projection screen. Speaking to Mel on the night he explained he was trying to get a better way of projecting the footage. The club will have to give the go-ahead to install the projector and screen it, which will improve the video and project it even larger!
I was filming the events throughout the night, which you can watch on YouTube. Search for "Elvis Fan Club Leeds Branch Patch It Up" and it will show up on the list. Or search for "paulreno1".
It brings the memories back - and that's all we have until Friday 10th August. And something really special for the big 35th Year Celebration, with a great night planned. As usual featuring the Elvis Raffle, Free prize Trivia Questions for giveaways, Elvis Stall and surprises through the night.
If you want to go along, please feel welcome. It will be a great night.
Directions to the location is shown on this site - click at the top of the bar and you will find it under the Fan Club button. AND put it in your diary, you don't want to miss it.
A special thanks to everyone who turned up for the Elvis "Spring Fever" event in May.
See ya all in August for the 35th Celebration Video-Disco!
You know it makes sense... SIMPLES!!
----------------------------------------------------------------------------------------------------------------
OFFICIAL ELVIS FAN CLUB LEEDS BRANCH "SPRING FEVER" VIDEO DISCO
Review May 2012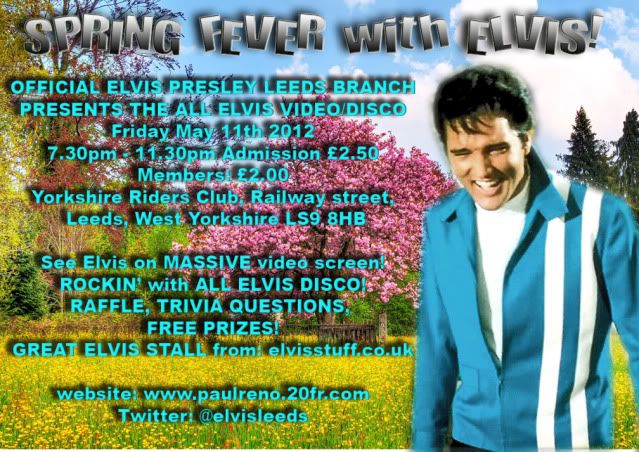 It was a funky, fabulous all out fun in May. (I was trying to find words that start with "F".) I had to miss one word out...well, it's a family site afterall! What a brill night. Elvis on screen and CD. With the usual Elvis Raffle, Giveaways and Elvis stall from Andy elvisstuff.co.uk
"Spring Fever, Love Is In The Air..." as the song goes - check out the video footage on YouTube.
---
ELVIS PRESLEY FAN CLUB LEEDS VALENTINES VIDEO/DISCO
REVIEW
The Elvis Leeds Branch disco was a great night with the Valentine's Disco in February - apart from a poor turn out.
Maybe everyone had treated their loved ones to a meal out? Who knows? - well apart from the people taking their loved ones out, that is!
The video/disco with projection onto a large screen has been met by approval from everyone who attended.
Mel, as always, on the decks for the night and provided any song you wanted to hear.
Andy, from elvisstuff.co.uk had a nice selection of Elvis goodies. Definitely the place to go for all your quality Elvis items.
Remember we only continue with the Elvis nights for the fans. It really needs a determined push to get as many people as we can to attend the ALL ELVIS Video/Discos.
____________________________________________________
____________
ELVIS THE CONCERT
THE KING HITS YORKSHIRE!
Elvis touring 2012: The King is back - 35 years on!
Wow! What performer could fill Arenas 35 years on? ELVIS, of course!
Elvis appeared, projected on massive screens while his musicians played live.
It is likely this will be the last time you had to witness the amazing show. I hear they are changing the name and format of the show.
With the amazing technology today, it's possible they could introduce CGI elements. Imagine that?! Having said that the experience of watching Elvis's band members, coupled with Elvis singing along - was a unique experience.
The "real" Elvis is what we wanted, and the real Elvis we got! The main man on screen, belting out some remarkable songs in his unique way.
Not sure what will be the changes to the show, this is a closely guarded secret! But, I'll keep you posted on any developments I hear.
SHOW UPDATE:
Fantastic News - Talks are going on with the Graceland Estate, to produce a 3D Elvis show!
It's only being talked about, at the moment. But advances in technology have proved an "Elvis" 3D show would be possible. Imagine that?!

I had written this main article a few months ago - and it seems this is what they could do.
It really would be like going to an Elvis concert!
Exciting stuff. I'll keep you up to date with any future developments.
Remember - you saw it here first!

---
---
The Official Elvis Memphis King Leeds Branch Website News
---
ANOTHER FANTASIC VIDEO/DISCO IN FEBRUARY 2012
REVIEW
It's a pity if you missed the Elvis Fan Club Leeds Branch in February. A great night with large video screen and superb Elvis music - that's 100% Elvis!
If you fancy another great night of the King, the next video-disco is held in May.
There's music and video from the king on a massive screen. Great Raffle, with loads of prizes. (why is it I can never win?!)
And trivia questions from Mel, the DJ. Mel has loads of Elvis songs - any requests are welcome. That long lost track, hidden in the albums or just a song you love he'll play it.
See y'all at the "Spring Fever Special" event in May.
Lovely Jubbly - you know it makes sense!
________________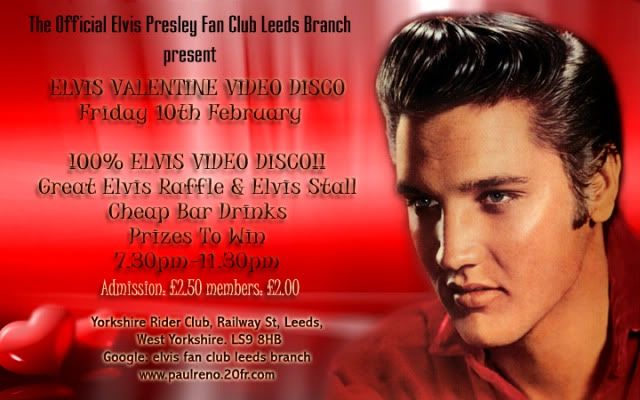 THE ELVIS CHRISTMAS CELEBRATION DISCO

DECEMBER 2012
Review
The Elvis Christmas Video-Disco went down brilliantly.
DJ Mel provided the entertainment (with a little help from Elvis - let's face it!) No more gremlins in the works this time and it was great to dance and watch the King at work - that's Elvis not Mel!

If you missed out on the event, you missed a wonderful night and the perfect way to start the festive season!
It really was "Such A Night."
________________
---
FIND US ON FACEBOOK
Join in the fun as it happens live! We are at Elvis Presley Fan Club Leeds Branch.
____________________________________________________________________________________________________________________
WOW LOOK AT THIS! ELVIS'S 1955 CADILLAC HAS BEEN SOLD. READ ON...
Lot No: 332 Formerly the property of Elvis Presley 1955 Cadillac Fleetwood 75 Limousine Chassis no. 557547481
It was no coincidence that 1955 was the same year that the American auto industry and Rock'n Roll grabbed America's consciousness by the collar and shook it till she was dizzy about Miss Lizzy.
It seemed that every brand had something new, whether it be horsepower or new designs or both. But Cadillac – the "Standard of the World" for quite some time – beat the rest of Detroit to the punch in 1954 with a healthy redesign and more power.
For 1954, it was good to be the king.
And for 1955, it was even better to be The King. Indeed, Elvis Presley was just getting started, rocking Southern households around the clock.
A rising star like Elvis surely would have a penchant for Cadillacs . . . and who could blame him? A mild facelift better integrated the parking lights to the outer edges of the grille. Humpback fins grew more prominent and, in the Eldorado's case, shark fins sprouted to take Atomic Age design to the next level.
Model range starting with the Series 62, which included the famed Coupe de Ville. The Eldorado convertible and Fleetwood 60 Special four-door sedan were both a glamorous move upward, although for different clientele.
At the top of the totem pole were the Fleetwood Series 75 eight-passenger and Imperial sedans. Base 331-cid V-8 put out 250 horsepower, with 270 with dual-four carburetors. The latter was standard for Eldorados and available for lesser models. With over 140,000 sold, 1955 was a record year for General Motors' luxury brand.
This black Series 75 Fleetwood eight-passenger sedan appears to be typical of the 1,075 built in 1955. However, this one was originally light blue, having been repainted black upon being purchased by Elvis Presley in January, 1956 to transport him and his band to gigs around the South. Rumor has it that his band toured with the luxury limo, strapping their instruments to the roof of the car!
The Caddy eventually was on display at the Elvis Presley Museum in the 1990s before being put on display at the Elvis-A-Rama Museum in Las Vegas.
Currently owned by a prominent Texas collector, this piece of Memphis-by-way-of-Detroit history comes with the original conditional sales contract from Southern Motors of Memphis that was co-signed by Elvis' father, Vernon Presley. Also included is the original owner's manual with Elvis' signature on the back cover, plus one spare tire, lug wrench, and jack.
Sold for US$172,000 inclusive of Buyer's Premium
..................................................................................................
BLIMEY! There you have it. It actually sold for just over £100,000 - Okay, it's not the sort of money I carry around in my back pocket, but what a very reasonable price to pay for such a great, genuine piece of Elvis history.
I haven't heard who the official buyer is, but I'm sure Graceland could certainly afford such a unique link to early Elvis history.
Maybe Graceland did buy it? Time will tell. If they missed out on owning the Cadillac, they have failed miserably. But Graceland have been known to purchase jumpsuits from auctions and other things. They tend to keep their cards close to their chest.
I feel pretty confident, you'll be seeing this one at Graceland soon!
---