Fun On Stage
Having Fun On Stage
Elvis would often fool around with his audience and his band.
It was part of an Elvis concert. At times he would throw glasses
of water over his musicians! Much to the amusement of the crowd,
and Elvis! They would often pass to him various strange items.
Tom Jones only got knickers, but Elvis got them and a lot more!!

Here's a selection of stage shots showing Elvis' sense of fun.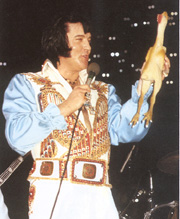 1976 - This is one chick Elvis wasn't expecting!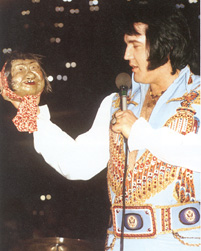 1976 - Elvis, always one step aHEAD!
*Notice the jumpsuits above. One has white sleeve/blue jumpsuit - the other is opposite.
July 1973 - The last time Elvis would wear a cape with a jumpsuit. Over excited fans would often grab his capes, and nearly pull him off the stage. So he decided not to use them. (Who could blame him?)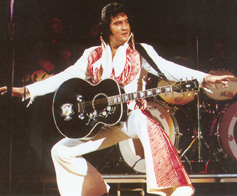 1975 - Elvis would do this move, as if he was a low flying aircraft. He would do this to J.D. Sumner's extra low bass voice, often comparing his voice to a B-52 Bomber!
Later, J.D. used his voice to great effect on Elvis' 17th number one in 1977, 'Way Down.' "Way on dowwwwwn!"
If you listen to the original mix of "Way Down", recorded at Graceland in 1976 - try turning up the volume at the end of the song. You can clearly hear Elvis's dog, "Getlo" barking after J.D's ending!
Elvis recorded at home in the 'Jungle Room,' but his Chow was overheard on his mic!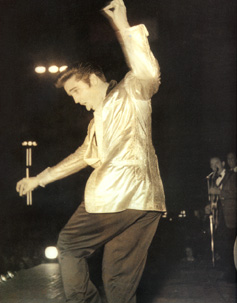 1956 - Elvis on stage... showing off! In the 50's Elvis was something else, which led to the police actually filming one of his shows. They thought he was being indecent!
Elvis used the gold lame jacket instead of the full gold suit, which proved to be too warm for performances.
Yes, Elvis decided to drop the trousers - perhaps that's why the police were filming him!